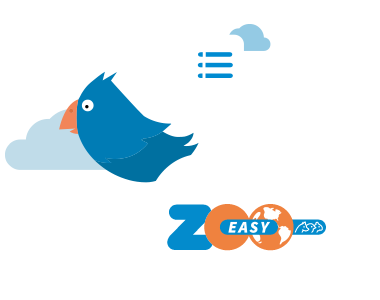 New: step into the cloud with ZooEasy!
Welcome to the new website of ZooEasy! Register your animals online and improve breeding results with the new subscriptions of ZooEasy. Your files are available online. Login anytime and anywhere on your computer, tablet or mobile device. Check your records when you're at a dog show or exchange your pedigrees with another rabbit breeder. And it's nice to know you won't risk to lose your data after a computer crash. It's great news for associations, kennel clubs and individual breeders!
Online or Stand Alone?
Version 12 will be installed on one computer. For ZooEasy you need to login to the ZooEasy website to access your own database. That's the biggest difference. Click here to compare the list of all features.
Update from Stand Alone to Online
Are you ready to start ZooEasy? You can start right away with a new database. Would you like to import your own files to ZooEasy? Please wait until February 1, 2015, so you can import all your files at once.
Have you already bought Version 12? Congratulations! If you would chose an annual subscription of ZooEasy, you will receive 32 dollars, 20 pounds or 25 euro discount for your paid amount of Version 12.
Start your free trial
Start your 30 days free trial of ZooEasy now! And tell us on Facebook and Twitter what you think about it!