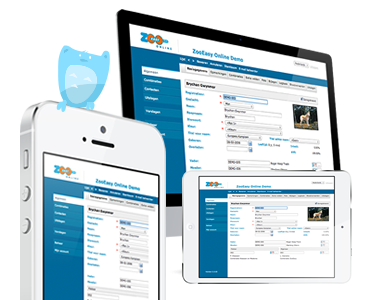 Pricing and upgrade to ZooEasy
In just a few weeks ZooEasy will be released. Here you can find the answer to some frequently asked questions.
I currently use ZooEase Stand Alone. Can I import all my data to ZooEasy?
At this moment ZooEasy doesn't support this feature. This will be available starting on 1 February 2015. If you will upgrade from ZooEasy Stand Alone to ZooEasy, you won't have to fill in all your data again. Your database will be imported automatically and without costs. This will safe you lots of work!
What if I would like to start over in ZooEasy?
That is possible. On 21 November you can start immediately with ZooEasy.
What will the new subscriptions cost?
The price for ZooEasy Single User will be $10,40 a month (or €8) (based on an annually subscription). This subscription gives access to 1 person to your own online database.
I use ZooEasy Stand Alone. I would like to upgrade to Version 12. But can I also upgrade to ZooEasy later?
If you upgrade to ZooEasy by 2015, you will receive $34 (or €25) discount once on your annual subscription.