Alpaca breeding software
When breeding alpacas you want to make responsible choices. For this, it helps to keep a good registration. ZooEasy is the ideal breeding registration program for every alpaca breeder and society. You can easily keep track of all animals, including their birth records, characteristics, character, behavior, medical files, relationships between alpacas and much more important information about breeding. Discover all possibilities with your own online database.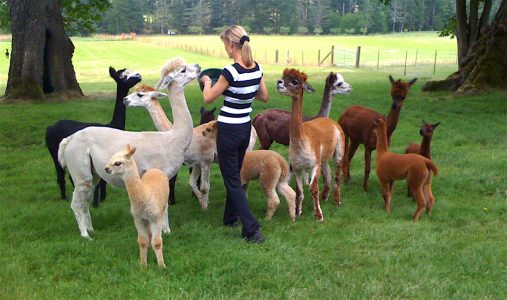 Suitable for all alpacas
The software is suitable to record all data and colors of alpacas, llamas and other animals. Everyone can easily use it. A starting (hobby) breeder can register all important information about breeding and build their own pedigrees. Professional breeders, associations and societies use ZooEasy to record health information, keep track of performances and analyze relationships to improve breeding results. ZooEasy is used by several alpaca breeders and societies, including the Alpaca Association Benelux in Europe.
Complete information about every alpaca
You can record all your information about your alpacas or llamas. Add an alpaca and record its basic data, including name, registration number, date of birth, father, mother and physical appearance. Extend this information by adding images, medical records and vet visits, notes about its wool quality, characteristics, contest results and much more. Do you need an extra category? You can easily add this yourself to keep track of all the information you need in order to take care of your alpacas. Are you searching for an animal with certain qualities? With the search function you can easily track down essential information and analyze it, before you start breeding.
Health information
In the medical records tab you can record information about the health of every animal. Create notes for vet visits, keep track of information about vaccinations and deworming, and register when nails were last cut. You can also upload files with health and test results. This will keep all data in one convenient list.
Breeding: inbreeding and relationships
When breeding alpacas it's important to know which animals are related. With this knowledge you can reduce inbreeding within the herd. The software automatically calculates inbreeding percentages of every animal you add. The more alpacas you have registered in your own database, the more accurate this percentage is. The calculation method of Wright is provided by Wageningen University and Research Center (WUR).
Before you start breeding, you can easily calculate the inbreeding percentage of a young animal. Select a male and a female alpaca and easily create a trial pedigree. Would you like to have insight into multiple animals at once? Create a relationship table. Select multiple males and females and the program will calculate the relationships between the animals selected. Based on this information, you can quickly make a responsible breeding choice and keep the inbreeding percentage low.
Make your own pedigree
Make your own pedigree with just one click of the mouse. Here you can see multiple generations of the selected animal. You can also add pictures, to make your pedigree look even better. The customized layout shows several details, such as the name, gender, and inbreeding percentage of your alpaca. At a single glance you will see which ancestors were used to breed your herd. You can also adjust your pedigree to your personal preferences. Decide which information you want to show, change the colors and add the logo of your farm or alpaca society. Now you can create a professional pedigree for every alpaca.
Contests and contacts
A breeder who attends contests, shows and exhibitions, can add notes of the achievements for every alpaca on the contest results tab. Make notes of each contest, upload the judge's report and add a picture of your alpaca on that day. Analyze your results to learn what judges like and find the strong and weak links of each animal in their breeding history. With ZooEasy it's also convenient to keep track of all your contacts, including other breeders, customers, judges, vets or other people in your hobby or professional breeder network.
ZooEasy for every alpaca association, club and society
ZooEasy is also suitable for use with multiple users. You can start a Multi user account for two or more breeders. This makes ZooEasy the perfect program for any association, society or other alpaca breeding organization. One manager will have access to and control over the entire database. In addition, there are several levels of access for society members. Commission members can access privacy-sensitive data that is not available to other members. Breeders can change the records of their own animals, while other members can receive a reader account which allows them to see all the animals but no privacy-sensitive information such as personal addresses. Members may be able to create trial pedigrees that will help with the selection of new breeding pairs.
The biggest advantage for a breeding society is keeping all information safely together in one comprehensive database. The software offers several possibilities to analyze data. You can, for example, make a trial pedigree or relationship matrix. Export data to an external program such as PopRep for a complete analysis of the inbreeding percentages of your alpacas. This extra information offers every alpaca society more insight into the inbreeding of their breed, to inform their members about responsible breeding choices.
Try ZooEasy for free
Would you like to learn about all the features of the software? Try ZooEasy for free for thirty days right now.