Bird breeding software
As a bird breeder you want to spend as much time as possible with your birds. ZooEasy will help you do that. Login and easily keep track of your data. This will give you an amazing amount of insight in health, performance and inbreeding in your animals. It's much easier to determine breeding couples, while you keep a lot of time to enjoy and take care of your birds. Breeding made easy thanks to ZooEasy.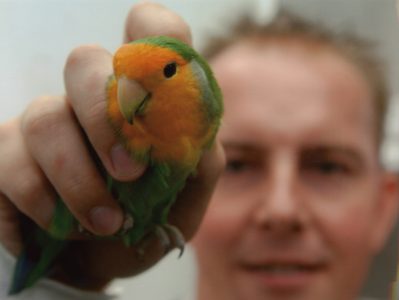 Suitable for breeding all bird species
Our program is suitable for every breeding novice, expert, hobby and professional. And luckily it's not difficult at all. Keep track of all your birds and improve your breeding results by learning all you can about your winged friends. Save information about their appearances, show results and more. Make your own pedigrees and print out this information if you sell your bird. You can keep track of every kind of bird in your database, including:
Budgies, parakeets
Canaries
Zebra finches
Parrots
Finches
Siskins
Gould Amadines
Lovebirds
And many other bird species
Register every single bird
With our software you can register all important information about breeding your birds. Start by entering all basic data, including band number, gender, date of birth and colors. Also select the parents of the bird for a better insight into bloodlines. You can follow unlimited bloodlines; this is useful later, when you select breeding couples. The program automatically calculates inbreeding percentages of young birds in new nests. Our software offers many other features, such as pedigrees, results at bird shows, registering all health information and keeping track of your contacts.
Creating a pedigree
With ZooEasy you can create your own pedigree of 3, 4 or 5 generations of birds. The pedigree can show the color of the bird, the birth date and the inbreeding percentage. If you've saved a picture of your animals, it will show that on the pedigree too.
Stud book for associations
Associations or work groups use our database product to register all the members birds in one central location. The board members can see and change all the data. Normal members have a personal login account and they can only see the data, so that they can make the best choices for their breeding.
Try ZooEasy for free
Are you a bird breeder, then choose ZooEasy now to register your animals. Try how easy it is yourself by registering now and getting the first 30 days for free.