Cattle breeding software
ZooEasy is the ideal database for farmers, breeders, associations and studbooks breeding cattle and cows. The program is suitable for small scale breeding organizations, for the preservation of rare breeds, meat cattle and hobby breeders. Easily keep track of your cattle and register information about their characteristics and medical files and gain better insight into inbreeding and the relationships of your cattle breed(s).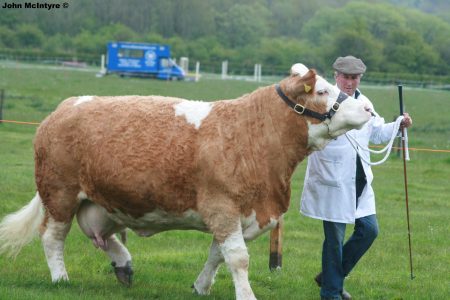 Suitable for breeders and associations
Our program is not only suitable for individual breeders. Also associations, clubs and societies use ZooEasy, including the Associations Holland Dexter and landscape managers Geldersch Landschap & Kastelen in the Netherlands. Our program is especially popular with people who manage rare breeds, because the software has excellent inbreeding calculations and it shows unlimited bloodlines. The software is easy to use for anyone breeding cattle and cows. Continue reading or start your 30-day free trial today.
Registration of cattle and cows
Register all data you need when breeding cattle and cows with ZooEasy software. Register date of birth, registration number, name, father and mother. You may add a picture of each calf and change this once it has grown up. Add all extra info that is required for breeding, such as characteristics, character information, medical files, show results and all your contacts. You can easily search for specific information to find the perfect match when you are breeding cattle.
Pedigree for cattle
Create a pedigree with just one mouse click and obtain a clear overview of the ancestors of your cattle and cows. The pedigree shows multiple generations of cattle. The basic info shows the name, date of birth, gender and inbreeding percentage of each animal. Decide what you want to show on the pedigree. This can be changed for each purpose. For private use you can add health information and inbreeding percentages, yet show other information such as names, dates of birth and show results when selling your cattle and cows. Also add a logo to create a layout that matches the corporate identity of your farm or association. Upload pictures of each animal to create a professional pedigree for every cow.
Health of your cattle and cows
The health of your cattle and cows is very important when breeding. This is essential to breed healthy offspring and keep your cattle happy. Keep a medical file of each animal. Add notes of every vet visit and keep track of the medical information for each cow, including vaccinations, genetic disorders, diets and other information. This information forms the basis of responsible breeding choices.
Prevent inbreeding
ZooEasy software shows the inbreeding and relationship percentages of all your cattle and cows. The program automatically calculates the inbreeding percentage of offspring. Create your own trial pedigree and see the inbreeding percentages of new calves. Create a relationship matrix before you start breeding. Select multiple bulls and cows and the program automatically shows an overview of the relationship percentages of the selected animals. Based on this information it's easy to make responsible breeding choices. The calculation methods are based on the method of Wright. These are provided by Wageningen University and Research Center (WUR).
Shows and contacts
ZooEasy offers more features to register all your cow data. Do you and your cow or bull attend contests or shows? Register the name, date and place of every event and make notes about the results. Upload the judge's report as an attachment and add a picture of that day to your personal files.
You may also register all contacts that you've met in your cattle breeding. Now you can easily find your fellow breeders, feeders, vets and customers in one administration.
Suitable for breeding associations and studbooks
ZooEasy is perfect for associations, studbooks, landscape managers and organizations that deal with breeding and preserving cattle and cows. Log in with multiple users on one and the same database. The board keeps total control of all information. Members of committees can be authorized to change data, while other members can have reader accounts. With this account they can't adjust information, but do have access to certain information to choose a bull to breed with.
Associations can add extra modules and services in ZooEasy, including a management course or import of current databases to ZooEasy. Please contact us for more information or take a look at our webshop to see which extra features we offer.
Are you an individual breeder who wants to share your account with your friends, family or fellow breeders? Start your own Multi user subscription for two or more breeders. You will always be in control of the authorized users who have access to your database, so your shared information will always be safe.
Discover ZooEasy for free
Are you curious to see all features that make breeding easy? Discover ZooEasy and try the software thirty days for free. Our team will gladly support you with any questions during the trial. Sign up now and add your first bulls and cows to the online database today.