Chinchillas
When breeding chinchillas, you want to pair the most beautiful and sweetest animals. The health of your chinchillas also plays an important role when choosing the right animals for breeding. ZooEasy software helps to easily keep track of all your chinchilla records, all within your own online database.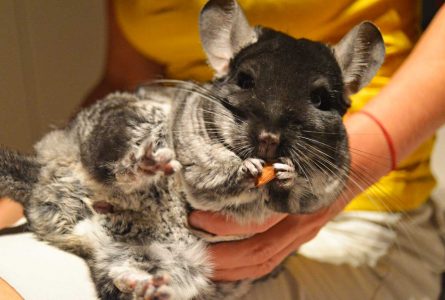 Suitable for all chinchilla breeding
Our chinchilla software is suitable for everyone breeding chinchillas: from starting hobby breeders to (semi) professional breeders and chinchilla farms. Make notes and analyze your breeding results, or just keep a tidy database with lovely images of every chinchilla you have ever bred. You can easily register all the data that you want to keep track, such as characteristics, appearances, ancestors and medical reports. Make your database look great by uploading pictures of your animals. You can also add lots of information, from contest results to the contacts at your chinchilla farm. ZooEasy is suitable for breeding all chinchillas, including:
Lanigeras
Brevicaudatas
Costinas
Characteristics of your chinchillas
You can start your personal database by entering information about your animals. The basic details include registration number, name, date of birth, colors, father, mother and the owner of your animal. You can also check the box to indicate you are the breeder and owner, or show the chinchilla belongs to another breeder. Now you can add everything that involves breeding chinchillas, such as the structure and colors of the fur, length of the ears, color of the eyes, medical records, genetic defects and much more that you think is important for breeding your animals. Add images so you can easily recognize each chinchilla and trace unlimited bloodlines.
Making a pedigree
Once you have added multiple chinchillas to your database, you can make a pedigree with just one click. The pedigree shows multiple generations. Now you can see bloodlines at a single glance, and check who the ancestors of your chinchillas are. The pedigree also shows inbreeding percentages to see which ancestors are responsible for inbreeding. This information will help to improve your breeding results.
You can also customize your own pedigree. Pick a color scheme or add the logo of your (hobby) farm. Now you can share your professional pedigrees with other breeders or new owners of your chinchillas.
Inbreeding percentages
Would you like to start breeding chinchillas but do you worry about the risk of inbreeding? The solution is to keep track of all information about your chinchillas. The program will automatically calculate the inbreeding percentage of every young animal for you. You can also create a trial pedigree in advance. Select a couple and immediately see the expected inbreeding percentage. The relationship matrix gives more insight into the relation between multiple animals. Select a group of males and females and the program will create a clear overview of all relationship percentages. Now you can make a responsible choice about which animals to breed with –like any professional breeder.
To calculate inbreeding and relationship percentages, we use the calculation method of Wright. This method is provided by Wageningen University and Research Center (WUR).
Contests and shows
When breeding chinchillas, you can also take part in contests and shows. Register the results for each animal in your own online database. Add the name, date and location of each event. Take a picture of your chinchilla champion at the show and upload this with your show results. Also register the show judges of your chinchillas and add the judge's report, to keep track of all information about the animal. Now it's easy to see which chinchillas make you the proudest breeder in the world!
Registration for chinchilla associations
ZooEasy is also suitable for two or more chinchilla breeders. Share all your information with your best friend, fellow breeder or family member in one online database. Do you want to use ZooEasy professionally? Our software is also used by chinchilla associations, clubs, societies and breeding organizations. As an association, you can use one and the same database with multiple people at the same time. The board will have access to all data using management accounts. Members can receive other access rights, such as the right to see lots of information, without being able to adjust this. You can also protect privacy sensitive information from regular members. A breeder may have access to all chinchillas in your database using a breeder account. Please contact us for more information, courses and advice for all associations.
Try ZooEasy for free
Sign up and try ZooEasy for free for thirty days. After this period you can decide if you would like to continue your subscription. With your own online database for chinchillas it is now very easy to keep track of all information and improve breeding results.