Goat breeding software
ZooEasy has the ideal software for every goat breeder and association. It doesn't matter if you just started to breed goats as a hobby or if you keep a professional administration. Our online database offers detailed insight into all your goats. Keep track of all information for breeding, such as characteristics, birth information, bloodlines, medical records and show results. The software automatically calculates inbreeding percentages of all your animals, to make even better choices when breeding goats.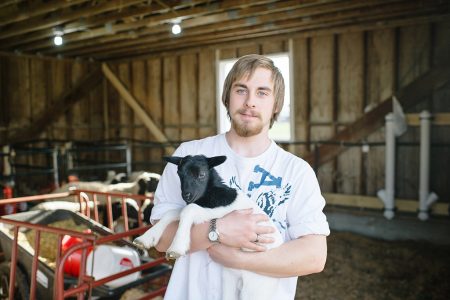 Suitable for all goat breeding
Our ZooEasy goat software is suitable for everyone who breeds goats: from starting hobby breeders to professional studbooks and associations, such as the Dutch goat association LFNL. The software is very easy to use for goats. Add information about each goat, make breeding pairs and keep track of all your results. Do you want to do more with our software? Analyze your data for the best understanding of family history of all the goats you have ever bred. You can register all breeds with our software, including:
American Lamanchas
Australian Cashmeres
Australian miniature goats
British Alpines
Irish goats
Kinders
Nigoras
Nubians
Pygoras
Saanens
Toggenburgers
And all other goat breeds
Keeping track of your goats
With our program you can easily keep track of everything you need to know about breeding goats. Register all data for every goat, including date of birth, registration number, name, title, parents, offspring and characteristics. This information allows you to track unlimited bloodlines. Add a picture to compliment your description. You can also store specific information about each goat, such as a medical files, show results and much more. This is the basic information required for every responsible goat breeder.
Create a pedigree
Once you've added multiple generations, you can easily create pedigrees. The pedigree shows multiple generations of animals. You can choose which information the pedigree should show, such as the animal's names, genders, dates of birth and inbreeding percentages. This way you can easily see which ancestors cause inbreeding. Customize your pedigree with a layout that suits your association or breeding club. Add a logo and create a professional pedigree that you can give to new owners of your goats.
Breeding and health
Healthy goats are essential for every breeder. Good health means stronger goats, more milk healthy offspring and above all: happy goats. Keep a personal medical file for each goat. Make notes about vet visits, deworming and genetic disorders. If a goats need a special diet, you can make notes about this too. You can also upload reports and medical files for each individual goat. This helps you to keep track of the health of every single goat and give them the best care available. Also analyze health data of your herd and keep track of the individual progress of each goat.
Prevent inbreeding
Prevent inbreeding of your goats by keeping accurate records. ZooEasy software calculates the inbreeding coefficient of every newborn goat automatically. Calculate the inbreeding and relationship percentages before you start breeding. Select a breeding pair and create a trial pedigree. You can even make a relationship matrix to see the relation between selected bucks and does. The more animals you add to your administration, the more accurate the numbers come. This will help you to choose the right breeding pairs. The method of calculation is provided by Wageningen University and Research Center (WUR) from the Netherlands, using the calculation method of Wright.
Shows and contacts
Our software offers more features to keep up with your goat administration. For example, register all your contacts, such as other breeders, the vet, goat feeders and others involved with your goat breeding. Do you need a phone number? Just search for the one you need and you'll have all the contact info at hand.
Do you take your goats to shows, contests and exhibitions? Make notes of each result and upload the judge's reports. Now you can keep all information about your goats in just one central database.
ZooEasy for goat associations
ZooEasy is also available for two or more breeders who want to share one single database. Several goat associations, clubs, and societies use ZooEasy. The program allows you to log in to one and the same database with multiple people. The board can decide which information is accessible for members and which information can only be seen by members of the board or commission members. That makes it easy to keep control of privacy sensitive information. Members with a breeder account, for example, can only adjust their own animals in the database. Members with a reader account will only be able to see certain information and can create a trial pedigree to make responsible choices for the next breeding rounds.
As a plus to the comprehensive basis of the software, associations can also order extra modules and services. We give extra courses to managers, can import your current database or help with customized projects for breeding and registering goats.
Try ZooEasy 30 days for free
Would you also like to make the administration of your goats easier? Start today with your free trial subscription to ZooEasy. Sign up here and add your first animals today.