Breeding guinea pigs
More and more guinea pig breeders choose ZooEasy. Why? Because it's the easiest way to keep track of all information about your cavies. That makes it easier to start breeding. Register all data, such as appearance, ancestors, medical data and show results. This will provide extra insight into the health and inbreeding percentages of your guinea pigs, helping you to make better choices for responsible breeding.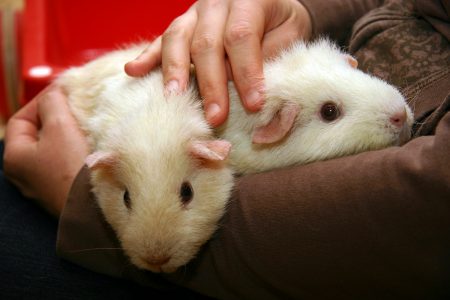 Suitable for breeders and guinea pig associations
ZooEasy is suitable for everyone: young and old cavy breeders, starting hobby breeders and true professionals. You can add information about your guinea pigs one by one or import your existing information. You can use our software yourself or with a fellow breeder, but it's also suitable for any guinea pig association or breeding organization that wants to manage and preserve a breed. There's one thing we all have in common: we all want the best for our guinea pigs. Our software is suitable for all breeds, including:
Americans
Abyssinians
Himalayans
Peruvians
Silkies
Skinny Pigs
Teddiess
Texels
White crested
Rex
And all other colors and breeds.
Register all guinea pigs
You can add all guinea pigs or cavies to your own online database. With this information it will be easy to make the right choices when breeding guinea pigs. Register all basic information, such as:
Name
Registration number
Gender
Date of birth
Father, mother
Colors
Owner
You can also add extra information, such as pictures of every cavy, extra details about the pelt structure, characteristics, size, weight, medical data, contest results, whether the animals are in your possession or if they belong to another breeder and much more that is relevant to breeding your guinea pigs.
Pedigrees for guinea pigs
With our software it's easy to make a pedigree for your guinea pigs. This will show multiple generations of animals. At a single glance you will see who the ancestors of your cavies are. If you see one or more ancestors more than once, you know immediately that they have caused a higher inbreeding percentage. Also make your pedigree look great by adding pictures. The pedigree also shows basic information, including name, date of birth and inbreeding percentages. You can customize these settings by adding different data or design your own layout by picking a color template and logo.
Relationships between guinea pigs
Relationship percentages are very important when breeding guinea pigs. A low inbreeding percentage is better for your animal's health. ZooEasy uses the calculation method of Wright to calculate inbreeding percentages. This method is provided by the University of Wageningen (WUR). The software automatically calculates the inbreeding percentages of all young animals. Also select a male and female guinea pig to make a trial pedigree. Would you like to have quick insight into your animals' relationships? Create a relationship matrix to see the relationship percentages between multiple male and female guinea pigs. This will make it easier to choose your next breeding pair.
Register even more
ZooEasy offers several other features for cavy breeding. Save medical files for every individual animal, with notes of vet visits, genetic disorders or information about their specific diets. Easily locate information about every single guinea pig on order to give them the best care.
Breeders who participate in contests can register information about every event, such as judge's reports or pictures of that day. Do you want to keep all information together? Then you can use the list of contacts to add anyone who you've met for your breeding hobby or profession.
Also available for associations
ZooEasy is not just available to individual breeders but also for two or more cooperating breeders, associations, clubs and organizations that keep information about guinea pig breeding. With ZooEasy it's easy to register all information about all guinea pig breeds of your association. This is a convenient way to gain better insight into the health and inbreeding of the breed. This is especially helpful for breeding rare breeds.
The management has access to all data. The management decides which information can be changed by members and which information is only available to see but not for adjustments. As an association you can manage your data in one central database, while you can share parts of your data with your own members. Just ask us for more information about the features and possibilities for your own club or association. We're happy to help.
Try ZooEasy for yourself
Try ZooEasy for yourself and experience how easy it is to start your own online database and improve breeding results. You can join us for free and try the software for thirty days.