Breeding hamsters
When you breed hamsters you have lots of information about your animals. You know when they were born, who the parents are and all about their characters. As a responsible breeder you use this information to make responsible breeding choices. ZooEasy software helps to quickly organize all data into your own online database. This will help you to achieve detailed insight and more control over breeding your hamsters.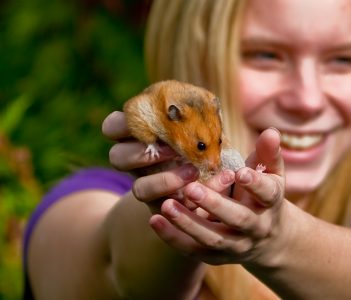 Suitable for all hamster breeding
Our software is suitable for the registration of all kinds of hamsters. The program is used by starting hobby breeders as well as professional breeders. Most hamster breeders keep their information to themselves and choose a Single user account. But you can also use our software with two or more breeders to share information about all the animals you take care of together. Associations, clubs and hamster societies involved in breeding also choose ZooEasy because it's very easy to use. So start your own database and keep track of all your hamsters and give them the best care possible. You can register all kinds of hamsters, including:
Campbell's
Chinese hamsters
Roborovskis
Russian dwarf hamsters
Syrians
Winter Whites
Characteristics of every hamster
Organize all information about your hamsters into your own online database. Include notes about everything that's important when breeding your hamsters, such as their name, date of birth, breed, colors, dad, mum and owner of the hamster. This is your basic information and it helps you to trace bloodlines unlimitedly. Then, you can add extra data, including pictures, characteristics, fur colors and patterns and health information. Upload documents for each hamster, including the results of a contest and judge's reports. Later on you can use all this information for your (new) breeding rounds and find exactly that one hamster you had in mind.
Pedigrees for your hamsters
When you've added all information and you've kept track of the parents, you can create a pedigree with just one mouse click. The pedigree shows multiple generations. This gives you a quick overview of the ancestors and shows the inbreeding percentages for each generation for better breeder insight. Besides our standard pedigree, you can customize your own lay-out. Choose which data you want to show in the pedigree. Add a picture of each animal and this will appear on the pedigree. Do you have a breeding farm? Add your own logo and change the color template, so your customers and other breeders will recognize this as a pedigree from your organization.
Prevent inbreeding of your hamsters
ZooEasy offers detailed insight into inbreeding and the health of your hamsters. You can use this information when you start to breed (new) animals. The software calculates the inbreeding percentage of every newborn animal. Plus, easily create a trial pedigree. Select a male and female and the program will calculate the inbreeding percentages of the offspring. Would you like to have a quick overview of the relationship between your animals? A relationship matrix show the relationships between the selected males and females. Based on these facts you can make a responsible choice when pairing new breeding couples. The calculations are more accurate when you add more animals to your database. The program uses the calculation method of Wright, provided by Wageningen University & Research Center (WUR) in the Netherlands.
Health, competitions and more
ZooEasy offers many more features for the registration of your hamsters. Have you competed in a show? Add the judge's report as an attachment and keep a clear overview of all shows and prizes. Make notes of your hamster's health to make sure you choose the right hamsters for breeding. Have you made many new connections in your hobby or breeding profession? Add your contacts to the database, to have all information about breeding in one central place.
ZooEasy for associations, clubs and organizations
ZooEasy software is also available for hamster associations, clubs and organizations that breed or preserve (rare) hamster breeds. It is used for groups of two or more breeders who want to combine information for better insight into different hamster breeds, or by breeding associations who want to conserve rare breeds. A well-organized administration helps all breeders to make responsible breeding choices.
Associations can log in to the database with multiple people at the same time. One manager has access to all information. Members of the board and other members can receive their own account and see the information that has been selected by the society. For example: a breeder can adjust the information of their own hamsters, but another member can only see information and make trial pedigrees but has no rights to change information. Please contact us for more information and advice about ZooEasy for associations.
Sign up for free
Are you curious to find out what you can do with our software? Sign up for ZooEasy for free. You can use the program 30 days free of charge. It's the perfect opportunity to register your hamsters, gain better insight and improve your breeding results. Discover all advantages for yourself. Sign up now and start by adding your first hamsters to your own online database.