Breeding other animals
As a breeder, animal breeding association or studbook it's important to keep track of all your animals. This way you can easily make responsible choices when selecting and breeding animals. With ZooEasy software you can quickly keep track of all information about the animals, including their appearances, characteristics and health and the relationships between them. You can also create pedigrees that show the most important data.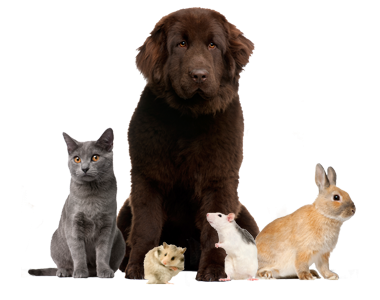 Suitable for all animal breeding
Our software is suitable for all animal breeders; both those breeding animals with or without a pedigree. You can choose between several subscriptions. The free subscription is useful when you just started breeding animals. Experienced breeders and professional associations usually choose a paid subscription. With a Single user account, you keep all your information safe to yourself. A Multi user account is for two or more hobby breeders, small breeding groups or large assocations. Our program is very easy to use and suitable for breeding all kinds of animals, including:
Minks
Ferrets
Hedgehogs
Llamas
Deer
Pigs and swine
Donkeys
Kangaroos
Fish
Reptiles, such as snakes, salamanders, lizards, turtles, etc.
And many more animals
Can't find the animal species that you breed on the list? Please contact us. We can add your species or breed without the obligation to subscribe to our software. Also check this page for a comprehensive list of other pets, livestock and farm animals.
Register all data
Easily register all breeding information about your animals. Start by adding basic info, including a registration number, name, date of birth, father, mother and characteristics. You can also add this information to the pedigrees of your animals. You can add extra information, such as notes about characters, medical files and results of shows and contests. Add a picture of each animal to complete your records. This picture is also visible on the pedigree. Have you completed all information? Then you can start tracking bloodlines unlimitedly.
Breeding and health of your animals
When breeding animals, it's important to keep a medical history of each animal. Make notes of every vet visit, keep track of medical test results and add notes about diets or inherited medical conditions. Make notes to see if your animals are improving. This information helps you to even take better care of all your animals. Also upload results of medical tests, faecal examinations or DNA tests. Now you know everything about the health of each individual animal.
Inbreeding and relationships
The software automatically calculates the inbreeding percentage. The more generations of animals are added to the online database, the more accurate these numbers will be. The inbreeding percentage is shown on the pedigree of each animal. Also create a trial pedigree to calculate the inbreeding percentage of the offspring. Create a relationship matrix, to see which selected males and females are related in a single glance. Now you can pick the right animals for responsible breeding choices. The calculation method for the inbreeding and relationship percentages is provided by Wageningen University and Research Center (WUR). The software uses the calculation method of Wright.
Create a pedigree
Easily create a pedigree for each animal. With just one mouse click the software automatically creates a pedigree with multiple generations of animals to see the ancestors. The pedigree also shows information about the date of birth, gender and inbreeding percentage. You can easily adjust this data. For example, you can show health information for your own use, while removing privacy-sensitive information to create a pedigree for customers or other breeders. Pick your own color scheme or add a logo to the pedigree for your association, club or studbook. With ZooEasy software you can easily create and print a professional pedigree for each animal.
Contests and contacts
Do you and your animal enter contests or shows? Register each result in your own online database. Register the date, judge, results and more for each single event. Upload a judge's report as an attachment or add a picture. Now you can see the results of each of your animals.
You can also save all contacts you've met in breeding. This way you will keep track of the contact data of your fellow breeders, vets, judges and others.
Extra features for associations
ZooEasy software is ideal to use with multiple people at the same time. This starts with our Multi user account for two or more breeders, which you can use with a friend, colleague or family, but the sky is the limit. This is why many associations, clubs, studbooks and other animal breeding organizations use ZooEasy. Our customers range from dog clubs to members of rare pig associations and local landscape managers to zoos and schools who educate on animal welfare, including:
The breeding association or organization chooses their own manager. The manager obtains access to all features and information of the software. Members receive different levels of access. For example: breeders can see and adjust information about their own animals, while members with a reader account can only see information without changing anything. The association decides which information is accessible to members and which info can only be seen by breeders or members of the board.
Breeding associations start with a comprehensive starting package. ZooEasy also offers extra modules and services. This helps to customize your database. We can help with extra courses for the manager of the database, customize the database with extra features or one or more of the features offered in our webshop. This makes it easier to manage all information about your breed(s) or (multiple) animal species.
Thirty day free trial
Do you want to know if ZooEasy is perfect for your animals? Try our software for yourself. Sign up on our website and start your free trial today.