Pig breeding software
ZooEasy software is ideal when breeding pigs. Many breeders, associations, societies, studbooks and farmers use our online database. The program is a particularly valuable tool for the registration of rare breeds. Keep track of all data about your pigs, including registration numbers, characteristics and health. The software automatically calculates the relationship percentages between your pigs, to gain better insight into relationships and inbreeding.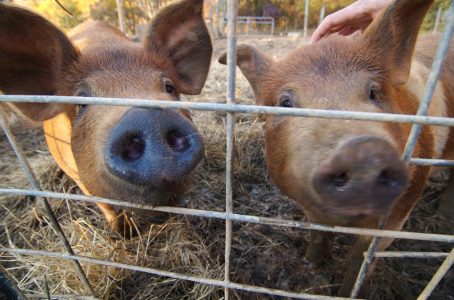 For breeders and breeding associations
The program is suitable for everyone who breeds pigs. It doesn't matter if you're just starting out as a hobby breeder or if you want to set up a professional registration of an entire pig breed for your association or pig studbook. Individual breeders choose a Forever free or a Single user subscription, two or more breeders or associations choose the Multi user subscription. Our program is easy to use and suits every responsible pig breeder. The following associations use ZooEasy:
Register every pig
When breeding pigs it's important to keep all data save. ZooEasy software helps with this. Register birth information, such as the registration number, date of birth, characteristics and parents of each animal. Add personal notes about every pig's character and other important information. You may add a picture of each pig. Confirm if you're the owner of the pigs or indicate if the pig belongs to another breeder. Add extra information to your records, such as health issues, show results or the contacts you know as a breeder of pigs.
Pedigrees for pigs
It's easy to create pedigrees with this online program. If you've added multiple generations of pigs, the program shows several generations of ancestors. Also follow bloodlines unlimitedly. Easily create your own pedigree with information that helps you to make responsible breeding choices, or print another version of this pedigree to give to the new owner of your pigs. You can add information to the pedigree, such as  the date of birth, gender and inbreeding percentage. Add pictures to make your pedigree look great, or change the color scheme and add a logo for a professional looking pedigree.
Medical files
The health of your pigs is very important. Therefor you can keep track of your own medical files. Register all vet appointments and upload test results. Add notes about vaccinations and other common or special test results. Check which of your pigs need a special diet or a certain medicin. Have you noticed a genetic disorder in one or more of your pigs? Register this and analyze the information, to make responsible breeding choices. Now you can keep track of the health progress of every individual pig and give them the care they need.
Inbreeding and relationships
Inbreeding occurs more when breeding with rare pig breeds. When you just have a small population, it's really important to be very accurate when you keep track of your pigs. ZooEasy software has many useful tools to facilitate this. The program automatically calculates the inbreeding percentage of each pig. Before you start breeding, you can easily create a trial pedigree to predict the inbreeding percentages of the offspring. Or select multiple boars and sows to create a relationship matrix. This shows how the selected males and females are related.
The calculated numbers will become more accurate if you keep track of your administration. The more you know about breeding earlier generations of pigs, the more reliable the statistics will be. ZooEasy uses the calculation method of Wright to generate these numbers. This method is provided by Wageningen University and Research Center.
Contests, contacts and other information
The program has more practical features to register all relevant breeding information. This includes the registration of shows , contests and fairs you have attended with your pigs. Register the winning pigs at each event. You can also upload the judge's report as an attachment to the results.
Also register all contacts you've met while breeding your pigs, such as other breeders, vets and customers. Do you have extra information you would like to register? Add extra tabs to complete your own database.
Pig breeding associations, societies and studbooks
Several pig breeding societies and studbooks already use our software. It's suitable for all organizations involved in breeding and preserving (rare) pig breeds. You can log in to one database with multiple accounts, starting from two accounts for cooperating hobby breeders or small organizations till an unlimited amount of accounts for large associations.
The board chooses a manager who has access to all features and information. There are three different access levels. Members (of the board) with a management account can see and change all information. A breeder can see and change information about their own pigs, but can't change the information of other breeders. Other members can access the database with a reader account. The board chooses which information is visible for each account. Most associations decide that their members cannot change anything but can see information about the health or ancestors of each pig. They can also make trial pedigrees to select potential pigs for breeding.
Pig associations, societies and studbooks can use extra features and support. We offer extra modules and services, including a management course or import of your current files. We also help with customized projects. Take a look at our webshop for extra features.
Discover ZooEasy for free
Are you curious about all features? Discover ZooEasy and try the software thirty days for free. Experience how easy it is to keep track of your own pig administration. Our team is happy to support you during the trial period. Sign up today and add your first pigs to your own online database.