Rat software
Breeders of fancy rats know everything about their animals. But how do you easily keep track of all this info? ZooEasy software helps you to keep track of all information about every rat in your own online database. Here you register all important information about breeding, such as their looks, characters and health data. The software gives you clear insight into the relationships between your fancy rats. This helps you to make even more responsible breeding choices in the future.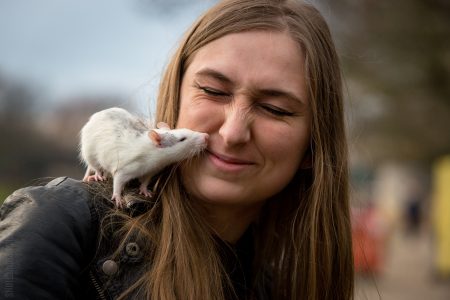 Software for all breeders and varieties
Every rat breeder can easily work with ZooEasy software. It's suitable for all breeders, including starting hobby breeders, professional ratteries and rat breeding associations. You can store any information you like safely with our online software, such as characteristics, health information, contacts, contest results, breeding pairs and offspring. Analyze this information easily to breed even stronger, healthier and happier rats. You can easily distinguish each fancy rat variety in your own database, including:
Agoutis
Bristle coats
Dumbos
Hairless rats
Satins
Standard rats
Rexes
Tailless rats
All fancy rats in one database
Register all information about breeding in your own online database. Every registration starts with the name, date of birth, gender, colors and coat structure of your rat. You can also confirm if you're the owner of the animal or indicate the rat is from another breeder.  You can select the parents if these are already in the database. If you keep track of this information, it's easy to follow bloodlines unlimitedly. You can add extra data, such as eye color, coat markings, character, a picture of your rat and other information that you need when breeding. On the medical files tab you can keep track of the health of your rats. Add notes about vet visits, health and long term records of genetic disorders or other health issues.
Breeding healthy rats
Breeders like to take control of inbreeding in their rats. This starts with clear insight into inbreeding and health, to make responsible breeding choices. The software calculates the relationship percentages automatically. You can also calculate this in advance. Select a male and female and create a trial pedigree. Or create a relationship matrix, where you can see how the selected males and females are related to each other. The more animals you add to your database, the more accurate the percentages of the software becomes. The relationship calculations are calculated using the method of Wright. The calculation in the software is provided by Wageningen University and Research Center (WUR).
Create a pedigree
Once you've added a few rats to the database, you can easily create pedigrees. Click on the animal that you want to create a pedigree for and the software will automatically generate a pedigree with multiple generations of rats. The pedigree shows information about ancestors, inbreeding percentages and more. You can easily adjust what you want to show on the pedigree and change the layout. A rattery or association can pick the color scheme and logo to fit their corporate identity. This way you create a personal pedigree for private use, or to give to other breeders or new owners of your fancy rats.
Contests and contact information
ZooEasy software offers many features. Do you and your rat enter rat shows or contests? Then you can register this information in your own database. Add contest results, titles and a judge's report for every rat. You can also upload a picture that you made on the day. Now you have great insight into your best performing rats.
Other possibilities include registering all your contacts in your database, including phone numbers and email addresses of other breeders, new owners or the vet. Now you can store all information conveniently in one place.
Software for rat associations and clubs
ZooEasy can be used by multiple people at the same time. This is useful for associations, professional ratteries, groups of two or more breeders and other organizations that breed and preserve fancy rats. The software has different levels of access for associations. A board member can see all (privacy-sensitive) information, but members, breeders or other associates can only see (or change) certain information. This way the board keeps control of information about health, inbreeding and relationships, while members can see and check information about their own animals in the database.
Breeding rats? Try ZooEasy
Try ZooEasy software and discover how easy it is to gain better insight into all your fancy rats. You always start with a thirty day free trial. Click here to try ZooEasy right away.