Sheep breeding software
Easily keep track of all your sheep in the ZooEasy breeding registry. Here you can safely store all your information about sheep breeding. This has many benefits. Easily keep track of the health of your animals, let the software calculate the inbreeding percentages and print a professional pedigree with everything you want to show.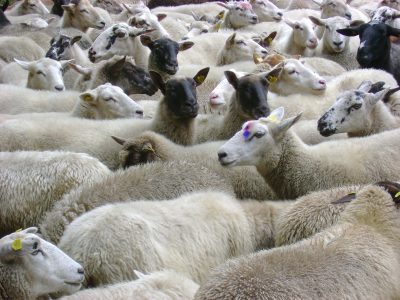 Suitable for all sheep breeds
The software is suitable for the registration of all breeds. Especially owners and associations that breed and preserve rare breeds will appreciate the calculation of relationship percentages in ZooEasy. This offers you better insight into the health and inbreeding of your breed, so you can carefully breed healthy animals. The software is suitable for starting (hobby) breeders, but is also used by professional individual breeders and sheep organizations.
Registration of your sheep
Register all relevant information about your sheep breeding. Start by adding basic information, such as a registration numbers, names, fathers, mothers, dates of birth and characteristics. It's also possible to save extra data for each animal, including a medical file, show results, specific details about the wool or other characteristics, behaviour and personal notes. Upload a picture to distinguish them all. Trace bloodlines unlimitedly. This information forms an important basis when you want to pick your next breeding pairs.
Health and medical files
The health of each animal is very important for any breeder. Keep a medical file of each sheep. Add notes about vet visit, vaccinations and other common treatments for each animal. Register genetic information, so you know which sheep are suitable for breeding. Also upload results of each medical test. Now you have all the information about the health of your sheep.
Breeding: inbreeding and relationships
Every responsible breeder aims for the lowest inbreeding percentage. ZooEasy software automatically calculates the inbreeding percentage of every sheep in the database. The more animals you've added, the more accurate the percentage becomes. Do you want to select a new breeding pair? Create a trial pedigree. The software calculates the inbreeding percentages of the offspring. Or create a relationship matrix, select several bucks and ewes and our software will automatically calculate the relationship percentages between each possible breeding pair. ZooEasy uses the calculation method of Wright, provided by Wageningen University and Research Center (WUR).
Create a pedigree
Create a pedigree of your sheep in just one mouse click. This shows several generations of ancestors. If you have added pictures earlier, you will see these on the pedigree. The pedigree shows different data. You can adjust this as you like. The default data shows the name, gender and inbreeding percentage of each animal. You can customize your pedigree to every color scheme and add a logo for your farm, association or breeding association for a professional looking pedigree.
Register even more data
ZooEasy offers lots of possibilities to register all your data. It's also possible to add your contacts , including everyone who's involved in your breeding. Do you and your sheep participate at contests and shows? Register the results of each show, upload the judge's report and keep an accurate administration of each achievement.
ZooEasy for sheep associations
The software is also suitable for groups of two or more breeders, such as associations, clubs and organizations involved in breeding and preserving these animals. Multiple people can log in on one and the same database. The manager of the database chooses which members can access certain information. Someone with a management account can see and adjust everything, but a member with a reader account can just see a selected amount of information. A reader account can't change anything in the database. This way the association maintains a secure database, while members can access the information that is important for them to make responsible breeding choices.
Associations have other extra options in ZooEasy, including a management course, extra accounts or customized projects.
Try ZooEasy 30 days for free
Sign up for ZooEasy and try our program thirty days for free. Start by adding your own animals to the database and start gaining clearer insight into sheep breeding. Do you have any further questions? Please contact us, we're happy to help.