'ZooEasy is our reference work'
Esther de Leeuw has been involved in the ZooEasy database of the Dutch Kooikerhondje Association (VHNK) since 2012. When the VHNK switched from their previous system to ZooEasy in 2012, she – together with her husband – supervised the transition. The association now has an entire ZooEasy team. Esther explains what they use ZooEasy for:
Reference work
'At the VHNK we had been using a paper club register for years, since approximately 1942. It lists all dogs, from the very first. This register is now a Word file, in which all nests are still entered every year. But that's pretty outdated, so in 2012 we started to digitalise all nests. Then we switched to ZooEasy. It's much more modern, you can search and filter more easily. ZooEasy is really our reference work. Pedigrees, nest information, conformation reports, everything is uploaded to ZooEasy. As are, for example, the reports of the litter visit that our association carries out for each litter at 6 weeks. The colors of the puppies, their appearance, tail length, whether or not testicles are descended, photos… And all documentation. Everything ends up in ZooEasy.'
ZooEasy input team
'Our entry team has instructions to enter all results in the same way. Everything goes exactly in the same box, so that you can then print out the data properly. We have regular consultations to ensure that everything is completed properly. Sometimes, for example, different results come in or something different is handed in by a member. Has a certain disease been tested via Utrecht University or via Embark, for example? How do we enter that in the database? Consultation is important to maintain a consistent approach.'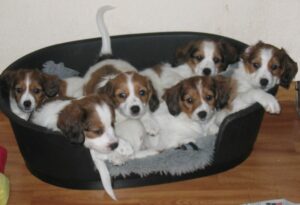 Breeder accounts
'At the VHNK we use both breeder accounts and reader accounts for our members. Breeders can make notes about their dogs with a breeder account. We also have a documentation account. We store all health results there. For example, if I receive a vet report about a dog's kidney problems, I save that report as attachment for that dog. I then record the condition under 'extra fields'. This way, as an association, we also keep everything stored.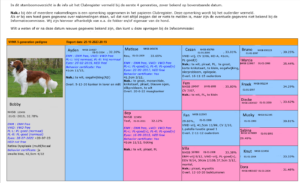 The database is used quite intensively by us. For example, the owners of all newly registered stud dogs receive an extensive 5-generation pedigree with all known information from ZooEasy. So all recent health results, how many offspring all dogs have, which conditions occur… etc. Breeders can use their account to print out such a pedigree themselves, as well as a dog detail report. For example, it shows how the dog scores for each condition. Illnesses that are reported are made public by us. Only the vet reports are not publicly visible, due to privacy laws. In this way we try to make studdog owners, breeders and other club members aware of what is in their line.'
Getting people enthusiastic
'The use of ZooEasy is not mandatory for our breeders. When creating a combination, they are not required to remain below a certain inbreeding percentage or to create a test pedigree. We always say: "If people only breed numbers, they forget that they breed dogs". But we do try to make our members as enthusiastic as possible about using it. During nest inspections we take our laptop with us and show people how it works: "look, here is your dog". People often really like that.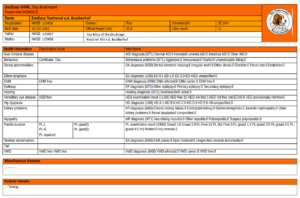 Nowadays it is almost necessary to do something with it. We have so much information, we have to use it. As a breeder you are also legally liable. With 'kitchen table meetings' we inform our breeders at home and abroad about how they can use ZooEasy. We visit a breeder with a large kitchen table, and other breeder friends from that area join us. Then we sit at the table with our laptops and look for dogs, try things out, make reports… The breeder can invoice the costs for the coffee to the breedclub. Once people have done it and tried it out for themselves, they're more eager to try things and it becomes easier to use.'
The future
'In the coming years we are about to see ZooEasy replace our entire register. But can we switch completely to digital? Some people like to be able to print something out and make notes on paper with a pen. But that is mainly a matter of time. Eventually we will all have to move on; Once ZooEasy has replaced the paper club register, they will have to. We will also be giving ZooEasy workshops in Denmark and Sweden soon. Trial accounts are issued, we teach, create trial pedigrees… just in small groups of around 20 people, such as the kitchen table meetings. We are going out again with the association to make our people EVEN more enthusiastic.'