Kickoff marketing project petting zoos
On Wednesday 14 June, the kickoff of a new project was finally here. We're very excited to tell you more about this: this year, Team ZooEasy is taking up the challenge to also market ZooEasy online specifically for petting zoos!
There are already a number of petting zoos that use ZooEasy Online, and there are some that used the old Standalone version of ZooEasy. But with 400-500 petting zoos in the Netherlands, there are many more that would benefit from our product! In collaboration with our marketing partner StandOut, we will ensure that ZooEasy is more widely known among this target group. Simon Jansen and Jeroen Hogenkamp with StandOut will help us with this. We are also very happy with the input of Inger van der Laan, a well-known name in the petting zoo world. She will support us with the practical part; what exactly does a petting zoo need? And how can ZooEasy best meet these needs?
As Team ZooEasy, we will work hard to ensure that ZooEasy is even better adapted to the specific needs and wishes of petting zoos. We already have the some exciting plans for that. We want to make the following improvements: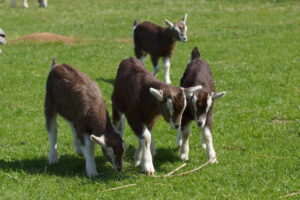 Registering multiple animal species

Linking to the I&R database for goats, sheep and cattle

Registering medication use and general tasks in a (medication) logbook

Automatically fill in and print a transport document for sheep and goats

Recording of general documents such as certificates
In short: lots of good reasons for a petting zoo to quickly switch to ZooEasy as their animal administration system. In the coming months we will keep you informed of the developments within this project. We're looking forward to it!